In business as in life, we learn more from listening than talking.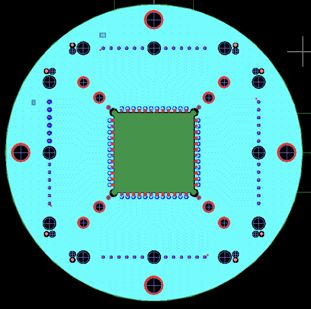 The other day we received a fairly odd question from an electrical engineer with a product development company we have worked with for many years.
"Can you do round circuit boards?" he asked.
"Yes…" we replied tentatively, thinking there must be so much more to the question.
"So a board that's three inches round… no problem?" he inquired.
"Absolutely," we confirmed.
But then we began to think. If a long-time customer doesn't know we have the capability to produce boards which aren't just rectangular, how would a new customer know?
So we are providing a PCB routing specification guide to help you determine just how wild you can go with a PCB board outline.
Smallest standard radius for an inside corner: 0.01575"
Smallest routed slot width 0.0315"
Thinnest standard material we can rout: 0.0050"
Thickest standard material we can rout: 0.1670"
Largest panel size we can produce: 14"x 18"
Variety of profiles we can produce: almost infinite
And if you have a special requirement which exceeds these standards, we are always happy to review it.
Often, we are provided with PCB designs which need to precisely fit into an enclosure and the enclosure is rarely rectangular. Good examples are hand held devices like game controllers, PC mice and sensors of every shape and size. More often than not, we can hold routed dimensioning to tolerances lower than enclosure manufacturers (sheet metal, die cast or injection molding) can produce.
Unique shapes can consume more time and tooling during the CNC routing process. The result may be an increased cost for your PCB but often the impact is less than the effort required for a product redesign.
Normally PCB design engineers don't express their creativity in their PCB shapes although we do sometimes get a glimpse of it in their silkscreen layers.
So you have to know we do appreciate customers who ask us about our capabilities.
It educates us on how we need to improve our communications and what information we need to provide to all our customers, both established and new. And we know it helps, when we listen.