Aluminum Trace PCB Case Study
When quantum computing firm D-Wave Systems needed a PCB with an aluminum monometal wirebond connection to meet the challenge of reliability connecting to superconductive chip packages in an extreme environment, they turned to Omni Circuit Boards.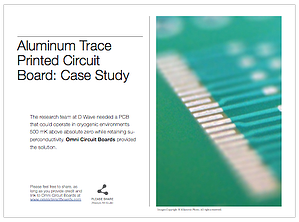 The result was "wire-bondable and solderable PCB traces" where the entire electrical patch was superconductive and thermally conductive at low temperatures below 500 millikelvin.
This new printed circuit board which features aluminum circuitry was released in July 2013.
At Omni, meeting these kinds of challenges is at the core of what we do. That's because today's universities, research departments, and high-tech innovators need PCB solutions that can keep up with the new ideas and technology.
In this brief downloadable case study, you will learn about the collaborative design and development process that took place in producing the world's first functional superconductive aluminum-trace PCB, as well as some thoughts on current and future applications.
You'll also see how this technology - through our custom PCB design process - can be used to help you meet challenges in cryogenics, particle/photon detection, MEMS PCB and custom chipsets.
Register using your name and contact information in the form on the side, and you can download your own copy within moments, and see how aluminum trace PCBs open up new frontiers in the reliability of an aluminum-aluminum wirebond around the world.