We Are Leaders in Printed Circuit Board Manufacturing
Omni has been at the forefront of the printed circuit board industry since 1985. While many of the processes and equipment used to produce printed circuit boards are consistent across shops, what makes manufacturing at Omni stand out?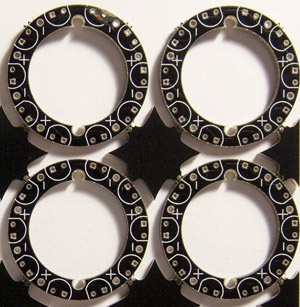 First, we have one of the most passionate teams in the industry.
Combining the years of experience with the desire to provide our customers with the best experience and product possible, yields a powerful combination. At Omni, you won't see automatons working with their heads lowered except for the occasional glance up to check out the clock on the wall. What you will see and definitely hear is a lively team environment, where people care passionately about what they do.
Second is the depth of knowledge and customer focus of our always approachable front-end staff.
From Client Services through CAM, our focal point is on ensuring you receive the product you want, from the simplest zero layer to 8 layer multilayer designs. So don't be surprised if one of our staff follows up with a question or an idea which improves on the manufacturability of your Printed Circuit Board, saves you money or makes your design even better.
Third, we are embarking on a Lean-Manufacturing journey to re-examine every one of our processes and procedures to extract the very most from our operation.
Historically, circuit board producers have not adopted Lean-Manufacturing as it conflicts with long standing traditions of over-production. At Omni, we recognize excess raw and finished goods inventories attempt to hide process and equipment issues. We also recognize the goal is not to find ways to make us work harder, but to help us work smarter.
Another benefit of a team that cares, and lead-time efficiencies possible with Lean-Manufacturing, is the added capability to service our customers with their quick turn requirements. If you need your Printed Circuit Boards in a hurry, provide your files and we can let you know our best turn around time.
Please give us a call (toll free 855.798.9717) or Send Your File and we will do our best to help.