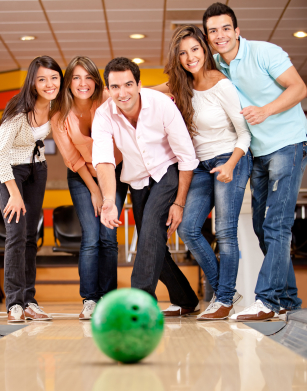 Offsite team building events have always struck fear into my heart. It seems no-one votes for events I enjoy like ice hockey or rugby or full contact Frisbee golf.
The normal process requires the group to solicit activity ideas which, after weeks of debating submissions like hot air ballooning, they are unable to get agreement on, a small clique must then take over and just do it. To-date I have survived:
An arena paintball event where we accidentally left one of our team members behind to face the group that came after us. A crew of semi-professional paintballers assaulted him with automatic weapons which left our co-worker looking like a Van Gogh palette except with bruises.
An indoor go-carting where the levels of carbon monoxide were high enough to induce hallucinations - you actually thought you were Richard Petty.
A murder mystery event with corporate ladder climbing co-workers providing more backstabbing than even Agatha Christie could have imagined.
Bowling night which was an oddly satisfying activity to alleviate stress. Repeatedly, I was asked whose face I was imagining on the pins I was trying to crush.
Kayaking on the Pacific Ocean which seemed quite zen until the guide informed us those playful seals frolicking alongside us loved to flip over kayaks.
Other events were even more memorable.
One of the earliest I was involved in was river rafting. The group was a sedate team of purchasers. We knew we were in trouble when they broke out the helmets and wet suits. The first reaction was disbelief that the rafting trip was intense enough to warrant this equipment. The next reaction was absolute hilarity at the site of two dozen out of shape purchasers wedged into their wet suits. As my dad would mutter "looks like 20 pounds of potatoes in a 5 pound sack." After everyone had squeezed into their suits, they waddled us to a point where we could look down and see the raging, flood swollen river. I just remember thinking this is fricken ridiculous, someone's going to drown. We survived an exhilarating thrill ride down the valley and a few even took the time to kiss the ground when we were safely back on shore.
At one manufacturing shop I managed, the preferred team building outing was a golf event for current and past employees. Prior to the event, my only other attempt at golf had been one round in high school at a municipal course where I learned about the term "slice" as I arced many balls over the trees and into the adjacent county cemetery. So I was little distraught to learn we were headed to a local course set on a hill nestled alongside a busy thoroughfare. It is very humbling to be the manager of a group and to have to quietly ask which stick you should use to drive the ball down the course. Although more than one ball careened onto the highway that day, thank goodness none were mine. We played "best ball" and while a few of my drives were used, I soon learned to despise putting as I continually circumnavigated the holes by yards. Towards the end of the day, in a fit of overconfidence, I did overpower one ball and sent it over the flag, one bounce through the course parking lot and onto the adjacent side street, but not before deflecting off the side of a pickup truck which I later learned was owned by our retired foreman.
The following year, the event was organized (perhaps because they felt they hadn't humbled me enough with a round of golf) for a full afternoon on a putting course. "Full contact putting", I asked hopefully but was told no. In retrospect, I can honestly say it was one of the most frustrating afternoons of my life. I chased the ball incessantly around and over every hole. Honest to a fault, I provided my score at the end of the course and I had a moment of hope when I was informed in a patronizing tone that I couldn't possibly have added it properly. The tally was redone and we learned I had missed adding a few strokes. The highest score of the group, by far.
The most fun I have had at a team building event was a car rally which I helped organize. The theme was city parks and we provided the team with a full sunny afternoon of driving with lots of quick turns and silliness with pun based clues. The team building portion came from the cell phone interaction between the teams as they helped each other navigate through the course without getting too lost.
It seems to me most events do little to promote team building. Whether your group is in the printed circuit graphics industry or Law Enforcement, if they don't already socialize outside of work, placing them in an offsite competitive situation usually did little to help. As well, the individuals who would have benefitted the most, usually failed to attend. But maybe your team building experience has been entirely different from mine. If you would like to share a memorable moment, please do.