Your Source for Fine-Line Aluminum Printed Circuit Boards
Aluminum printed circuit boards provide the design solution to challenges faced with low temperature superconductive circuit boards and applications where the radiation absorption properties of aluminum can be exploited.
By successfully developing a process of chemically milling circuit boards with an aluminum circuitry, we are able to provide a design solution to a number of unique applications previously constrained by conventional PCB materials and processes.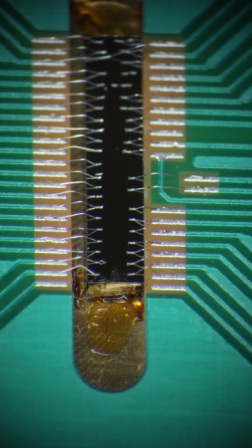 The process of producing PCBs with aluminum circuitry is unique.
The aluminum circuit begins with ultra-thin sheets of 30 µm aluminum foil. Depending on the customer's requirements a mere 5 µm film of copper can be layered between the aluminum and dielectric to enhance the thermal conductivity of the device. A copper layer 5 µm thick can also be provided on pads on the top side to enhance solderability These layered sheets are laminated together to customer specific configurations. After machining, a series of processing stages produce the fine lines and finally the soldermask/silkscreen artwork is provided. The end product is a printed circuit board with fine-line aluminum traces, solderable pads and superconductive capable connectivity.
For background information about our development process, see our Aluminum Trace PCB blogs. For technical specifications please click this link and for even more information about our Aluminum PCBs, visit our page with information on our free, downloadable Case Study on Aluminum Printed Circuits.
Please give us a call (toll free 855.798.9717) or Send Your File and we will do our best to help.